Event Calendar
Professional Development Series: Giving and Receiving Feedback
McCormick School of Engineering and Applied Science
12:00 PM
//
202 Northwestern Room, Norris University Center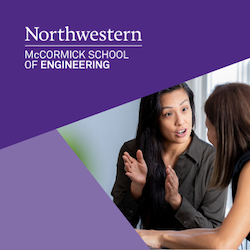 Join us for a series of professional development events hosted by McCormick HR. The third and final fall event of the series will focus on giving and receiving feedback.
This session is an interactive and practice-focused program designed to prepare participants for a variety of feedback situations including performance evaluations and ongoing feedback and coaching.
If you have questions or accessibility needs, please contact Kimberly Higgins.
Training provided by Cindy Aaronson, Organizational Consultant and Trainer with CSA & Associates.

click to see full description

more
click to hide full description

less
Wednesday, November 29, 2023 at 12:00 PM - 1:30 PM
202 Northwestern Room, Norris University Center Map
McCormick School of Engineering and Applied Science