U.S. Railroads and COVID-19
The U.S. Railroads and COVID-19:
Keeping Supply Chains Moving
FOR: Association of American Railroads
RELEASED: June 14, 2021
BY: Northwestern University Transportation Center
AUTHORS: Hani S. Mahmassani, Joseph L. Schofer, Max Ng, Breton L. Johnson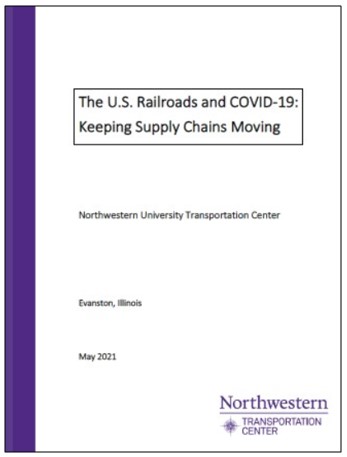 Background and Initial COVID-19 Impacts
The rapid onset of the COVID-19 pandemic in March 2020 marked a challenging time for the country and the U.S. freight industry.  Manufacturing slowed, consumer purchasing patterns changed, and for many, shopping moved online. The freight industry suffered a sharp decline in shipments, followed by a surprisingly quick rise. The movement of goods by freight rail had to quickly adapt to meet dynamically changing demand and volatile supply patterns. Despite this disruption, freight rail showed a great deal of resilience and reliability. This report addresses how the rail industry met the challenge of this whiplash in demand, explores impediments to performance during this period and looks beyond the crisis towards the future for the rail sector.
The assessment outlined in this report was completed by researchers at Northwestern University's Transportation Center (NUTC). The results show how the U.S. freight rail
industry was an essential component of pandemic resilience, demonstrating a high level
of adaptability to meet consumer and business demands.
NUTC Study Approach
NUTC researchers conducted an analysis of shipment data, supplemented with qualitative
insights from leading railroads, intermodal (IM) carriers, equipment manufacturers, car
leasing companies, shippers and e-commerce players to inform this report. What emerges
from this analysis is a rich picture of the impacts of COVID-19 on the freight industry, the
performance of the logistics system in general and railroads in particular, along with views of
causes, effects, and the future. The results illustrate the inherent value of the freight rail
industry to logistics and transportation in the U.S. In-depth interviews with industry leaders
and experts revealed that a handful of choke points, many of which did not belong to the freight
rail industry, complicated supply chain responses to COVID-19. These choke points included
congestion at West Coast ports and terminals nationwide, driven by both physical capacity and
labor shortages, alongside inefficiencies in the chassis market. While these contributed to an
already challenging logistical environment, ultimately, freight rail kept goods moving when other
methods of transport were constrained.
Overall, commodities traditionally carried by freight rail suffered varying fates in 2020. Some
products were negatively affected, including energy-related commodities (i.e., coal, petroleum
and petroleum products, frac sand), while demand for others grew or rebounded during the
pandemic, including grain products and intermodal, respectively.
Read The U.S. Railroads and COVID-19: Keeping Supply Chains Moving
Back to top